After a few years of hard work on it, the marathon course is close to reach its perfection. Changing it just a little compared to last year course, we made it more comfortable for runners which hopefully results in personal bests.
What are the changes?
The first one is at the fifth kilometre (at Grunwaldzka Street, close to Bułgarska Street cross road). There is a U turn close Cmentarna Street. The second change is half way through the course and it might help runners gain a few seconds extra and free Rataje area from traffic. There is no more Kurlandzka Street which means there is no 400 meters uphill run in this area. The small challenge up the hill stays at the 35th kilometre, but once the runners are done with it, there will be a nice surprise awaiting them. There are no Marcelińska, Wałbrzyska and Ptasia Street to conquer which means there are less turns to take along the course. The last long street (Grunwaldzka Street) leads contestants right to the finish line at the Poznań International Fair.
Streets line up
Start: Grunwaldzka
U turn at Cmentarna
Grunwaldzka
Jugosłowiańska
Ściegiennego
Arciszewskiego
Hetmańska
Dolna Wilda
Żelazka
Droga Dębińska
Piastowska
Dolna Wilda
Hetmańska
Starołęka Roundabout
Zamenhofa
Piłsudskiego
Inflancka
Piaśnicka
Chartowo
Baraniaka
run around Malta Lake
Krańcowa
Warszawska
Śródka Roundabout
Wyszyńskiego
Małe Garbary
Solna
Aleja Wielkopolska
Małopolska
Niestachowska
Św. Wawrzyńca
Polska
Bułgarska
Grunwaldzka
Finish – Mark Square (Poznań International Fair)

18.PKO Poznań Marathon course map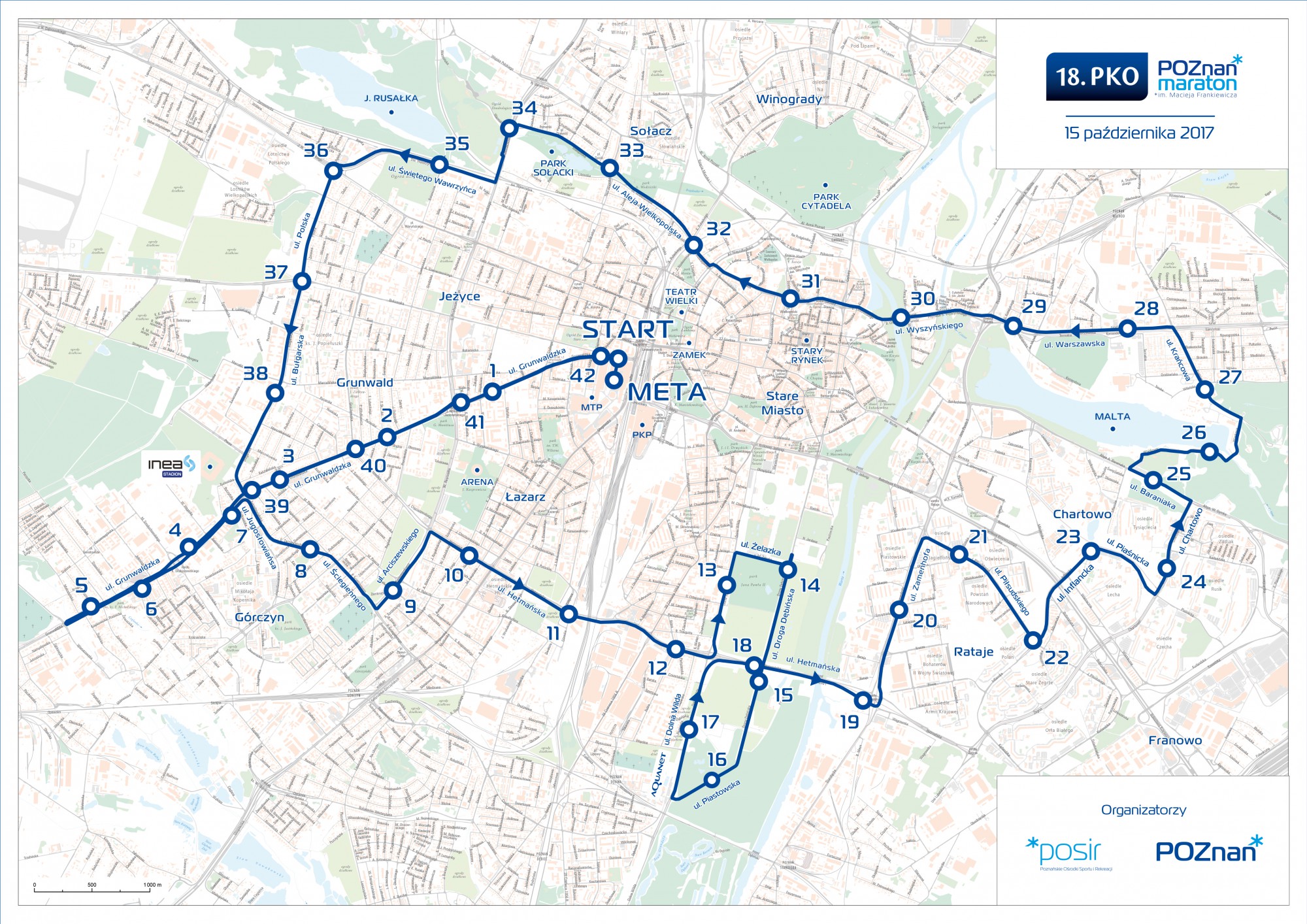 18.PKO Poznań Marathon course profile

Profil wysokościowy – elevation profile
Wysokość nad poziom morza – altitude
Długość – lenght